Lifetime Membership or Installments!
Select which Crypto Investing Insider membership best fits your needs.
For a limited time get our discounted lifetime membership or quarterly installments!
We charge $1500 a year and for most people that can be a real expense. But when you consider the sophisticated training and research we provide; this price is extremely cheap.
We provide training that's not only the most informative but entertains while it teaches. When combined with our powerful research reports, it's easy to understand why Crypto Investing Insider members continue to make unimaginable returns.
To join, just select the package that suits you best.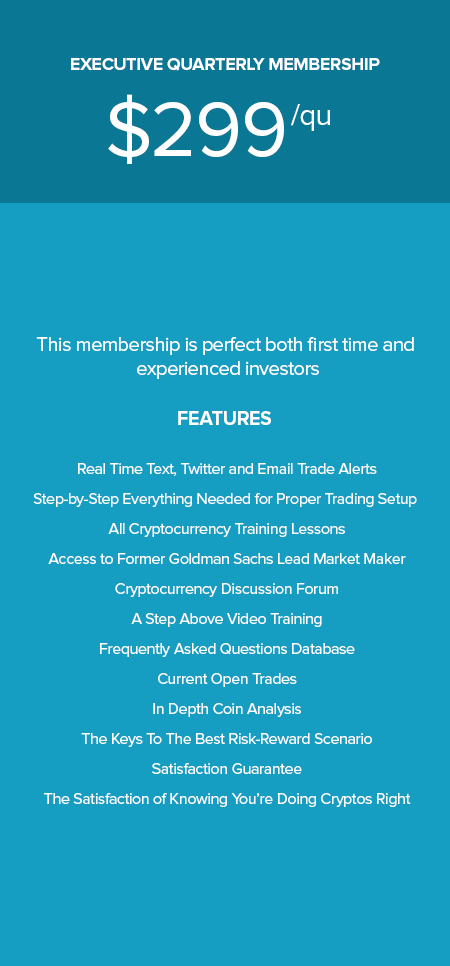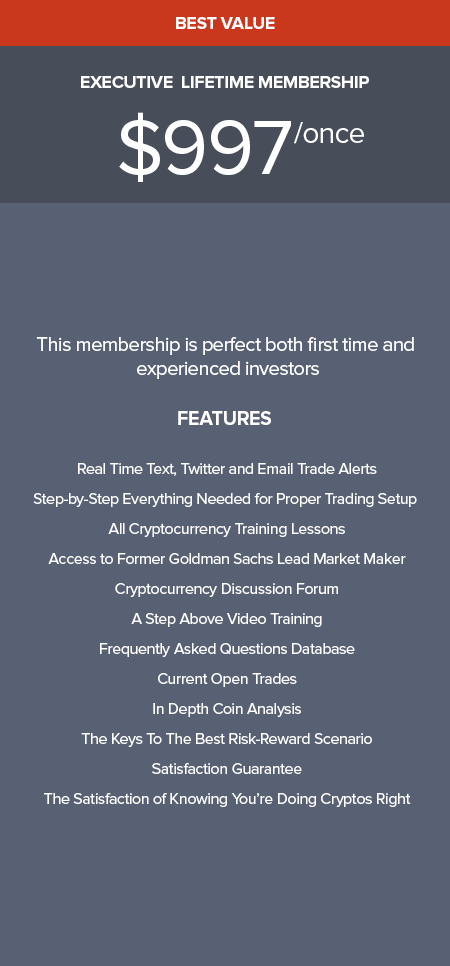 See What Other People Say About Crypto Investing Insider
All testimonials are from real members who have learned cyrptocurrencies through our system
You guys did a great job at informing me about what is important with cryptocurrencies and how to find winning ideas that multiply into big wins. Very professional website that offers some of the best instructional videos I have ever seen. A next level membership for sure!

Jerry M.
For anyone who is interested in learning how cryptocurrency investing works, this is the ultimate training course. I am so impressed with this material, I wished every membership site followed your same exact approach. Very informative, easy to understand, and entertaining!

Sarah B.
Chris, I took your advice and invested in several of your recommendations. They have all moved higher, but one of them is 20 times higher as of today. This is a huge win and now I understand exactly what you're talking about in the course on finding those winning coins.

Larry K.
Why Cryptocurrencies According To Medium.com
Simple truth — if the number of network users is steadily growing, the exponential growth of your investments is expected to grow with it. Thus, Facebook was worth more than $ 300 billion. The formula is simple. Looking for a network which is growing steadily at the very beginning => put money => wait => profit! The question is — why Cryptocurrencies? Because it's the same network and it's growing. Is growing quickly.